Saddle Brook's Leading Auto Body Repair Shop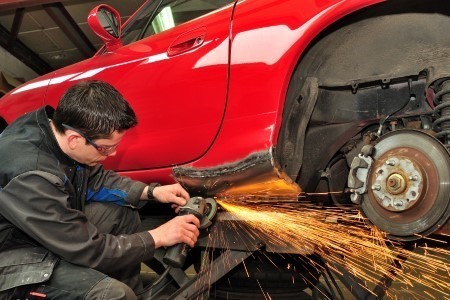 Does your vehicle in Saddle Brook need a little body work? You can count on NJ Auto Body for all your repair and restoration needs. Our auto body repair shop provides a complete line of auto body repairs including collision repairs, dent and scratch removal, auto painting, and more for all makes and models of vehicles.
We're open Monday thru Friday from 8 am to 6 pm and Saturday from 8 to 12. You can take advantage of our fast service and drive-in claims center after a collision or bring your vehicle by our Saddle Brook auto body shop anytime to get a free estimate for another service.
Free Auto Body Estimates
Saturday Hours
Fast In & Out Claims Center
Expert Auto Body Repairs
Collision Repairs
Being in an auto collision is a difficult time for anyone. If you're ever in that situation and need collision repairs, NJ Auto Body is here to help. Our professionals have the skill to completely restore your vehicle after an auto accident to a factory condition regardless of the make or model.
Auto Painting
Our professional can provide you with touch-up painting or complete auto painting service. We love repainting cars in Saddle Brook and we do a flawless job. If you're ready for a beautiful new paint color or need a touch-up because of scratches or chips, we're your local auto painting experts you need to do the work!
Dent & Scratch Removal
Are you tired of the dings, dents, or scratches on your car or truck? Let us get rid of the for you! Our dent and scratch removal professionals are very good at what they do. We offer paintless dent removal so there's no need to match the existing paint. When we remove scratches, we match the existing paint flawlessly with our computerized color matching system. Let us restore the beauty of your vehicle today!
---




"Great place. Had an E46 that needed to have entire new paint job. The workers were very talented and it came out beautifully, the price was fair and they're definitely pros. They also did some body work that was needed on my car. They were very friendly. I would recommend this place to anyone who needs their car to look beautiful again."
Austin B.
What To Do When You've Been In An Auto Accident
Being in an auto accident is a stressful, emotional time but it's important to stay calm and do the right thing. By knowing in advance what to do if you're ever in an auto accident, you'll have the best chance of keeping your wits about you. As an experienced Elmwood Park auto body repair shop,…
What Causes Car Paint To Chip & What To Do About It
Car paint chipping is a common problem here in New Jersey. Paint chips not only mar the aesthetic appeal of your vehicle, the faulty paint finish won't protect the vehicle from rust. Unfortunately, you can't always avoid the conditions which cause damage to the paint finish on your car except to have an auto painting…