The Rutherford Leader in Auto Body Repair Services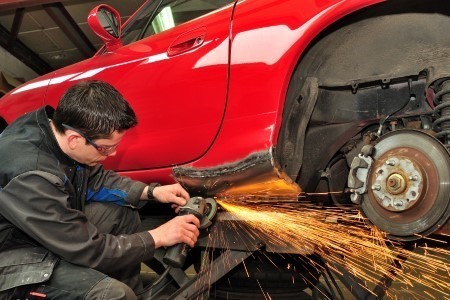 Our auto body repair shop provides a complete range of auto body repairs for your vehicle in Rutherford, NJ. We can make your car look new again whether it's fixing a small scratch on your car door, a bent frame, or the extensive damage caused by a wreck.
If you're looking for a Rutherford auto body repair shop who offers personalized service, call us. We start by giving you a free estimate and consultation and then help you through the process of restoring your vehicle. If insurance is involved in the repair, we work directly with your insurance company to make sure you get the most possible out of the restoration.
Convenient Drive-In Claims Center
Weekend Hours
We Handle Insurance Paperwork
Full-Service Auto Body Repairs
Written Warranties
Collision Repairs
We specialize in collision repairs, auto painting, dent and scratch removal, and a whole range of other auto body repair services for local residents and businesses. We can fix frames, unibody vehicles, bumpers, and everything else necessary to repair your vehicle to a factory condition after a collision.
Feel free to use our drive-in claims center to get started or call us if you have questions. We offer Saturday hours and will handle the insurance paperwork.
Auto Painting
Our Rutherford auto body shop offers expert color matching when painting your vehicle after repairing the body damage. We also offer exceptional auto painting service in the color of your choice. We use state-of-the-art equipment and the highest quality auto paints. We offer environmentally sensitive options, provide secure storage for your vehicle and give you a written warranty.
Dent & Scratch Removal
Getting rid of the dents or scratches on your car will make a world of difference in how it looks and how you feel about your vehicle. If you're ready to make your car look great again, come by to get an estimate from our Rutherford dent and scratch removal experts at NJ Auto Body!
What To Do When You've Been In An Auto Accident
Being in an auto accident is a stressful, emotional time but it's important to stay calm and do the right thing. By knowing in advance what to do if you're ever in an auto accident, you'll have the best chance of keeping your wits about you. As an experienced Elmwood Park auto body repair shop,…
What Causes Car Paint To Chip & What To Do About It
Car paint chipping is a common problem here in New Jersey. Paint chips not only mar the aesthetic appeal of your vehicle, the faulty paint finish won't protect the vehicle from rust. Unfortunately, you can't always avoid the conditions which cause damage to the paint finish on your car except to have an auto painting…